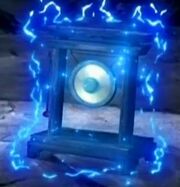 Boaddai's Gong is an artifact that Boaddai treasures in Redakai: Conquer the Kairu.
Information
Anime
It first appeared in Black Kairu Gold Metanoid, when Team Stax infused it with Kairu as bait to lure the Battacors so they could follow them.
Trivia
Boaddai refers to it as his "lucky gong".
Gallery
Community content is available under
CC-BY-SA
unless otherwise noted.