Combine & Conquer is the name of Redakai's second expansion. It was scheduled to be released in all territories during the first quarter of 2012, however it was only distributed in Italy.
The Italian version of Redakai received Combine & Conquer X-Readers and 5 card booster packs.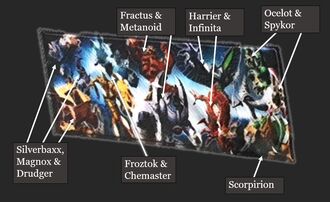 Information
Cards from the Comixology comics make an appearance.
Pack Arts featured Metanoid - Solar Plasma, Lionere and Bruticon - Gold Destroyer.
Some new Character cards were added.
Introduced the Fury keyword which is active while your hand contains two or less cards.
Introduced the Combo Attack mechanic which lets you play two Attacks at the same time for an alternative cost.
Combine & Conquer "First Series" includes 3 Combine & Conquer commons, 1 Combine & Conquer Rare or Super Rare, and one reprint from either Premiere Set, Promo, Gold Pack or MetaCharged.
Reprinted villain Character Cards got their affiliation logo changed to that of their team rather than the Battacor because Character descriptions are no longer the name of the team they belong to. French Edition Redakai also fixed this misprint.
Introduced Attacks with effects involving more than one keyword.
Cards no longer say 'Redakai Conquer the Kairu' on the back, just 'Redakai'
Sets Contents
Monster Cards 
Promo Monsters
Character Cards
Attack Cards
Red Attacks
Green Attacks
Blue Attacks
Promo Attacks
Premiere Set Reprints
Gold Pack Reprints
MetaCharged Reprints
Gallery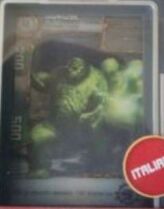 Community content is available under
CC-BY-SA
unless otherwise noted.