Combine & Conquer is the name of Redakai's second expansion. (The third set) It was scheduled to be released during the first quarter of 2012, however it was never released and the game is now discontinued.
The Italian version of Redakai received Combine & Conquer X-Readers and 5 card booster packs.
Information
This set had new art for character cards.
The characters had new defense zones.
This set had monster cards with a new ability similar to combination or fusion.
Ekayon was planned to be an upcoming character for this set.
The only card released from this set was Blue Armorite. It was an exclusive card that came with a white battlefield.
Upcoming Cards
Monster Cards 
Armorite - Cannonite (released)
Metanoid - Platinum Machine (never released)
Scorpirion - Blue Animal
Zytron - Blue Animal
Gorose - Green Animal
Scarachnoz - Red Animal
Ocelot - Ocelot Animal
Attack Cards (Never Released)
Kairu Barrage
Anti-Matter Vortex
Insect Swarm
Scatter Burst
Photon Frenzy
Thought Quake
Gallery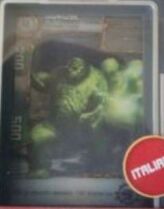 Community content is available under
CC-BY-SA
unless otherwise noted.