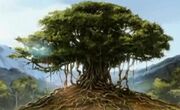 The Great Banyan Tree is an "artifact" that held an extremely large amount of Kairu within it in Redakai: Conquer the Kairu. It's Kairu was claimed by Team Stax.
Information
Anime
It made its appearance in The Valley of the Banyan. According to the local merchant, this one tree had been keeping them sustained but in the last few years, several new Banyan trees sprouted and they have had plenty of food to live off of.
Trivia
Due to Maya's connection to nature - she revealed it was a "Mrs. Tree".
Gallery