Redakai: Conquer the Kairu is an American/Canadian animated series based on the upcoming trading card game of the same name. It is co-produced Zodiak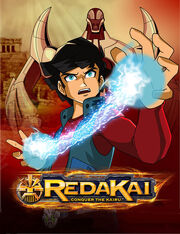 Kids/Marathon Media (Totally Spies, Rekkit Rabbit, Gormiti) and Spin Master. (Bakugan) It will debut on Cartoon Network on July 16th, 2011. 52 episodes have been confirmed.
Story
Many years ago, a great battle took place between two powerful Redakai masters, Connor Stax (Ky Stax's dad) and Lokar - a battle that would forever change the fate of the universe. Known today as the Great Cataclysm, the event resulted in the destruction of the planet Nevrod and the scattering of Kairu energy across Earth.
The Redakai of Earth have assigned their most promising warriors to find and collect Kairu energy. Their greatest challenge remains the villainous Lokar, who has assembled his own teams of warriors to find the Kairu before the Redakai. With the fate of the universe at stake, good and evil are put to the ultimate test.
Official Synopsis
"Redakai: Conquer the Kairu is an animated kids adventure series starring Ky Stax, a 15-year-old student of ancient martial arts who embarks on an incredible quest to find the Kairu, a primordial alien energy force. The fate of the world rests on their mission to collect the energy, harness its power and defeat the evil forces of Lokar. The incredible Kairu energy gives him immense powers and the ability to transform into the galaxy's most powerful warrior! Helped by his friends Maya and Boomer who also use the energy, Ky travels the globe looking for the Kairu to protect it from his extraterrestrial teenage opponents, with the hope that one day he will become the greatest Kairu warrior of them all – a Redakai"
Gallery
References
Community content is available under
CC-BY-SA
unless otherwise noted.